LIFELINE sliding door
The LIFELINE is the true classic among showers.
Clearly accented lines and plenty of comfort – this probably best describes LIFELINE's character. With its selectively applied design elements it becomes the dominant eye catcher and irresistible centre of attraction in your bathroom.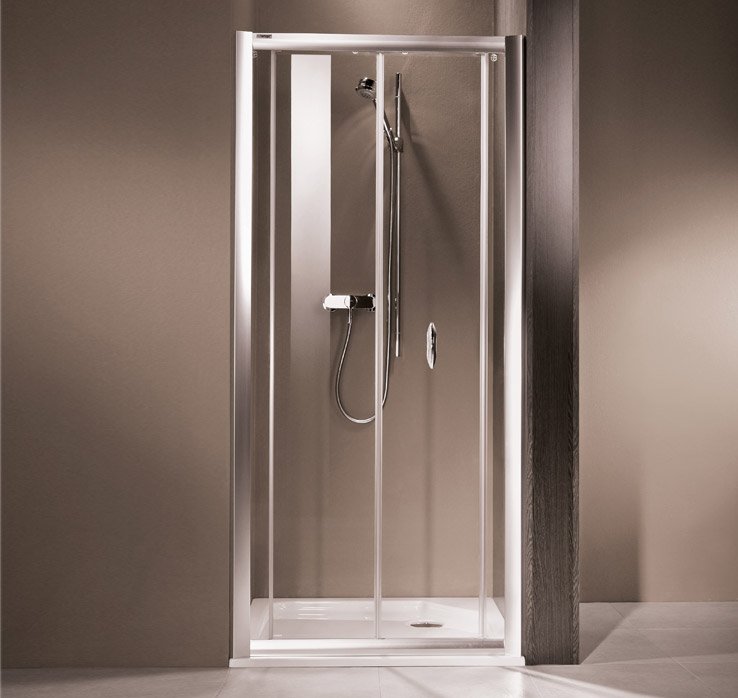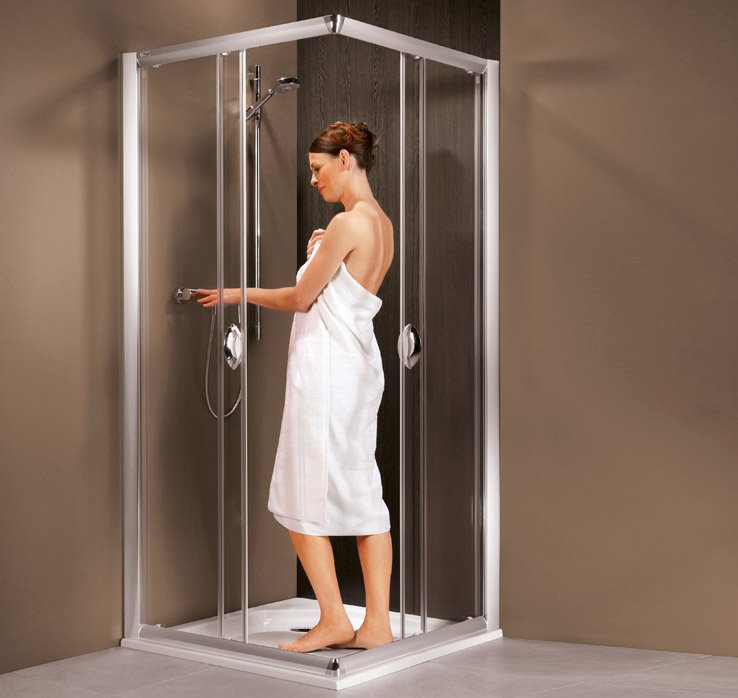 Details
Sketches

Click a sketch to start animation.

Pentagonal shower with sliding doors

Double corner entry with sliding doors

Triple corner entry with sliding doors

Double sliding door with side wall

Triple sliding door with side wall

Double sliding door with 2 side walls

Triple sliding door in alcove

Double sliding door with 2 side walls

Triple sliding door in alcove with 2 side walls

Materials & Colours

Frame colours 1-6

Learn more

White, Aegean, Manhattan

Pergamon, bahama beige, powder coated silver

Frame colours 7-11

Learn more

Matt Jasmine, Red (RAL 3003), Black

Ultramarine blue (RAL 5002), High-gloss siilver

Hinges and handles

Single pane safety glass (6mm ESG).

Learn more

In der LIFELINE kommt ein speziell wärmebehandeltes Sicherheitsglas (EN 12150) zum Einsatz, das widerstandsfähiger ist gegen Schlag, Stoß und Temperaturwechsel. Bei Glasbruch entstehen Glaskrümel, die eine Verletzungsgefahr deutlich reduzieren.

Learn more

The LIFELINE glanzing is also produced in satin glass on request.

Features

Elegant mouldings

Learn more

Elegant mouldings cover the vertical caulk­ing seals. LIFELINE still looks like new even after many years.

Rollensystem

Learn more

Spring-loaded ball-bearing roller system.

Easy care of shower

Learn more

To make cleaning easier, the LIFELINE sliding doors can be taken off their hinges at the press of a button.

Handles

Optional: Folding seat

Learn more

Seat with first-class, easy to clean surface available in the colors Anthracite (RAL 7021), Bordeaux (RAL 3011) and Sand (RAL 1015). Foldable; a magnet ensures secure fixation when folded up. Integrated motion damper for smooth unfolding. To accessories

Optional: ARTCLEAR GLASS

Learn more

ARTCLEAR glass has a permanently easy-care surface. Water rolls off, dirt and lime can hardly settle. The cleaning effort is greatly reduced. After showering, the glasses can simply be rinsed off with the hand shower after showering, any residues are removed once a week with a damp cloth (also microfibre cloth). Regular cleaning can be done with conventional bath cleaners, we recommend Artweger BLITZBLANK. Due to the UV-cured surface, the ARTCLEAR effect lasts a long shower life.
Downloads:
Cleaning & Care:
We recommend the Art-Squeegee included with every genuine-glass shower for wiping off the water from the glass after every shower. This is not necessary with ARTCLEAR GLASS. For hygienic and easy cleaning of your bathroom and shower, Artweger recommends the biodegradable Artweger Blitz Blank cleanser. It has optimum cleaning power without damaging the surfaces of Artweger products. Artweger Blitz Blank is available from your bathroom dealer. Do not use on marble or calciferous stone!