BASELINE tub folding screen
The BASELINE tub folding screen offers reliable splash protection for many years. It can be used in a variety of ways, as a single folding screen, double folding screen or triple folding screen for large areas and corner bathtubs. It swings 180°, making it easy to clean. It can also be folded against the wall to save space.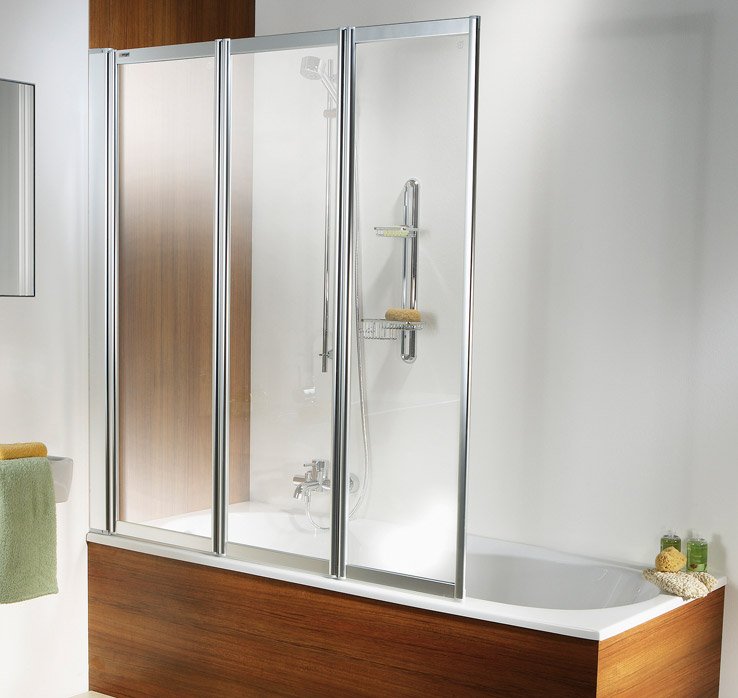 Details
Sketches

Click a sketch to start animation.

Materials & Colours

Single-pane safety glass

Learn more

In the Artweger BASELINE, special heat-treated safety glass (EN 12150) is used, which is more impact-, shock- and temperature-resistant. If the glass breaks then little crumbs are created which greatly reduces the possibility of injury.

Synthetic glazing: Diamond

Frame colour: Natural anodised

Features

Optional: ceiling support

Optional: ARTCLEAR GLASS

Learn more

ARTCLEAR glass has a permanently easy-care surface. Water rolls off, dirt and lime can hardly settle. The cleaning effort is greatly reduced. After showering, the glasses can simply be rinsed off with the hand shower after showering, any residues are removed once a week with a damp cloth (also microfibre cloth). Regular cleaning can be done with conventional bath cleaners, we recommend Artweger BLITZBLANK. Due to the UV-cured surface, the ARTCLEAR effect lasts a long shower life.
Downloads:
Cleaning & Care:
We recommend the Art-Squeegee included with every genuine-glass shower for wiping off the water from the glass after every shower. This is not necessary with ARTCLEAR GLASS. For hygienic and easy cleaning of your bathroom and shower, Artweger recommends the biodegradable Artweger Blitz Blank cleanser. It has optimum cleaning power without damaging the surfaces of Artweger products. Artweger Blitz Blank is available from your bathroom dealer. Do not use on marble or calciferous stone!